Manga Maker Comipo! Tutorials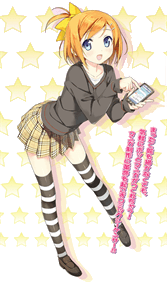 You can see some Manga Maker Comipo tutorials here. The program was developed by the Japanese, so it is not always clear for the European people. But sometimes it allows you to create almost real miracles!
You can buy program on:

Official site

Steam
Materials by tags


---
Useful links for Comipo
/ 2015-07-17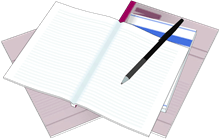 Naturally, this site - is not the only a storehouse of useful Comipo information. Here I will collect links to useful Internet resources that may be helpful when working with Comipo: 3D-models, backgrounds, drawing guides, accessories and so on. It's convenient to enable automatic translation into English in the browser When visiting Japanese sites.
Read more
---
Creating a simple game in RenPy
/ 2015-03-28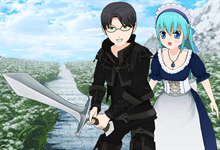 Visual novels creating is not such a difficult thing, as it might seem. And RenPy engine will help us: http://renpy.org. On the one hand, the engine is simple and understandable even for beginners. On the other hand, the engine is quite powerful and allows you to create really cool games. You need to download engine and install it. Nothing complicated in this process is not present, the default settings are good. Here is the RenPy main window:
Read more
---
Converting PMX, or new stages and 3D backgrounds for Comipo
/ 2015-03-18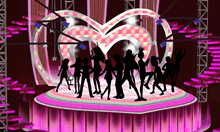 Imports from PMD has already been considered in the lesson about additional hairs. The purpose of this lesson is to emphasize that you can import not only hairstyles, handbags, wings. You can import anything. The import of full 3D-scenes, 3D-environment is especially useful. For example, it could be a park, the interior of a particular building, or part of the city with houses. Here is an example of the imported stage Comipo:
Read more
---
Park background in Comipo
/ 2015-02-11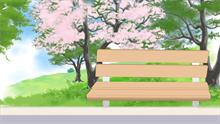 You can easy do park background in Comipo by using combinations of 2D-elements "Item Image", namely "32. Tree" and "33. Grass & Flower". The bench is collected from 3D primitives. Here's a park scene in Comipo:
Read more
---
Hero room in Comipo
/ 2015-02-05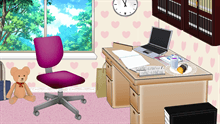 As you know, Manga Maker Comipo has a very few backgrounds with room interior. So, we need to make our own, it's not very difficult! The resulting image will be based on a mixture of 3D- and 2D-elements. Result in Comipo looks like this:
Read more
---
Steam Greenlight banner in Comipo
/ 2015-01-29

Steam Greenlight banner can be divided into 4 areas: background, illuminated planet, text, information about the project. You can create each of them in Manga Maker Comipo. Take a closer look at the background. It is not uniformly gray, has colored patches in the upper right and lower left corners.
Read more
---
Converting PMD, or new hairstyles for Comipo
/ 2015-01-06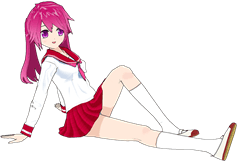 Manga Maker Comipo can import 3D models in the following formats: csu, mqo and obj. Obj format is the only widespread from this list. Obj format rather popular among game developers than in hairstyle and clothes fashion. But you can find a lot of hairstyles, clothes, and other fun stuff for Miku Miku Dance, abbreviated MMD. This tutorial considered on the import of custom 3D models in PMD format - the format of 3D objects in Miku Miku Dance.
Read more
---
WebMoney logo in Comipo
/ 2015-01-05

We will use techniques, described in Steam logo Comipo tutorial to create a WebMoney logo. First, you need to put existence WebMoney logo picture into background layer. Then put on top of it the base sphere. Decorate sphere and add cubes. The WebMoney logo main feature is a gradient blue parts and their interaction with each other:
Read more
---
Comipo Basics: Export Image file
/ 2015-01-01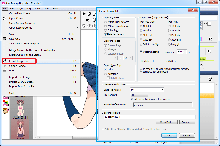 Novice Manga Maker Comipo users often asked, why their saved file cannot be opened as a picture. This is because the comic is necessary not only been saved, but also exported as standard picture. To do this, you must use the menu item "File" - "Export Image File…" or press F2 on the keyboard:
Read more
---
Steam logo Comipo
/ 2014-12-31

Steam logo creation is almost the same to Android logo creation. With few differences. First: it is not enought only spheres and cyllinders. Second: you need accurate geometry, to correctly display the conjugation. You need to import existance Steam logo image to Comipo to reach geometry accuracy. You can drag&drop image directly from file manager, or add it via "User Image" tab:
Read more
---
Item Positioning in Comipo
/ 2014-12-30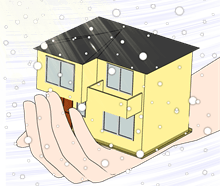 Today we will give a cottage into the character hands. Cottage made in the previous tutorial. It is understood that the object is already correctly imported and displayable in the Assest list. First you need to add a character to the panel. Than choose it's position (in this example a posture 100):
Read more
---
Android logo Comipo
/ 2014-12-29

To create Android logo robot you need primitives from "3D Item" tab, "91. Primitive". In concrete, you need: column, sphere, box. Thats all, nothing more.
Read more
---
Making own 3D objects for Comipo
/ 2014-12-28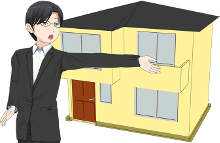 If you want to add a new 3D object to Manga Maker Comipo, than you need to create it in any 3D graphics program: Blender, 3DMax, Maya etc. I chose the house of the protagonist as the object. I painted it in Blender. This is how the house looks initially in Blender:
Read more
---
Amazon logo in Comipo
/ 2014-12-27

In the case of Amazon logo must pay more attention to the font name. Then the logo will be recognizable.
Read more
---
Character with wings in Comipo
/ 2014-12-26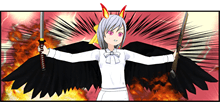 You cannot do character with wings in Manga Maker Comipo with default capabilities. However, you can see demonic figure with wings in the manga "One Manga Day":
Read more
---
Creating a website in Comipo
/ 2014-12-25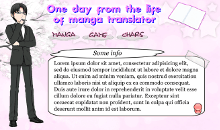 Creating a website in Manga Maker Comipo is almost like creating it in Photoshop. That means the program is only responsible for creating the image of the future design. Everything else must be done in other programs and requires skills and knowledge of HTML and CSS.
Let's see an example shown below:
Read more